About Us

Precision Collision Muskegon, Inc. is owned and operated by Tom and Paula Gonzalez. The business got its start in 1992 and continues to be a family owned operation today. Our single facility has undergone many changes in the last 10+ years due to our success and growth. Our technician's ongoing education, word of mouth referrals from previous clients, and the quality of our workmanship will hopefully continue our growth and success in the years to come.
The following newspaper article (which appeared in The Muskegon Chronicle on April 29, 1999), pretty much sums up the story of our past. This newspaper article is available for viewing in our waiting room and has been reprinted below for online reading.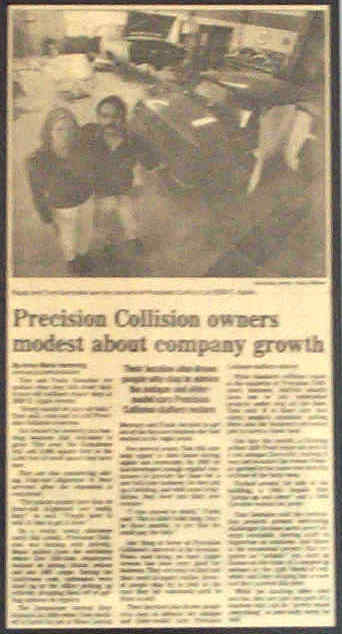 Precision Collision owners modest about company growth
By Anne Marie Hamming
CHRONICLE CORRESPONDENT
Tom and Paula Gonzalez are modest when they talk about their 6-year-old collision repair shop at 2930 E. Apple Avenue.
"Every month we pay our bills," Tom said, reluctant to call Precision Collision a success.
Yet behind the modesty is a bustling business that continues to grow. This year, the Gonzalezes will add 8,000 square feet to the 5,000 feet of work space they have now.
They are also considering adding front-end alignment to their services after the expansion is completed.
"The places around here that do front-end alignment are really busy," he said. "People have to wait in line to get it done."
On a warm, sunny afternoon early this month, Precision Collision was buzzing with activity. Music spilled from the workshop where five full-time employees worked on pickup trucks, sedans, and one 1967 coupe. During the lunch-hour rush, customers were lined up in the office picking up vehicles, dropping them off or getting updates on repairs.
The Gonzalezes started business in 1993 when Tom decided to leave his job at Blais Lincoln Mercury and Paula decided to get out of the daycare business she had worked in for eight years.
For several years, Tom did auto body repair at their home during nights and weekends; by 1993 he had developed enough regular customers to provide the base for a new full-time business. So they put up a building , and with some trepidation, they dove into their new venture.
"I was scared to death," Paula said. "But it didn't take long, maybe three months, to see that we could pay the bills."
One thing in favor of Precision Collision's survival is its location. Paula said being on busy Apple Avenue has been very good for business. They are easy to find and their work is highly visible. Several people stop by to look at the cars they let customers park in front to sell.
Their location also draws people who stop to admire the antique and older-model cars Precision Collision staffers restore.
While standard collision repair is the majority of Precision Collision's business, staffers usually have one or two restoration projects under way all the time, Tom said. It is those cars that catch people's attention, pulling them into the business's driveway just to have a closer look.
One day this month, a flaming yellow 1937 Ford coupe sat next to a red antique Chevrolet, making it easy not to notice the 4-door Pontiac parked in the same row directly in front of the body shop.
Parked around the side of the building, a 1963 Impala that "jumps up and down" and a 1964 Corvette waited for parts.
Tom Gonzalez said the restoration projects present interesting challenges because parts aren't always available, forcing staff to improvise on solutions. And there is the occasional project that requires an "artistic" eye, such as flames on the front of a souped-up antique or the right blend of red, white and blue striping for a race car they painted this year.
While the dazzling older cars are fun, they are just one part of a business that can do "pretty much everything" in auto body work, he said.
Precision Collision, Inc.
Featured in: The Muskegon Chronicle
April 22, 1999